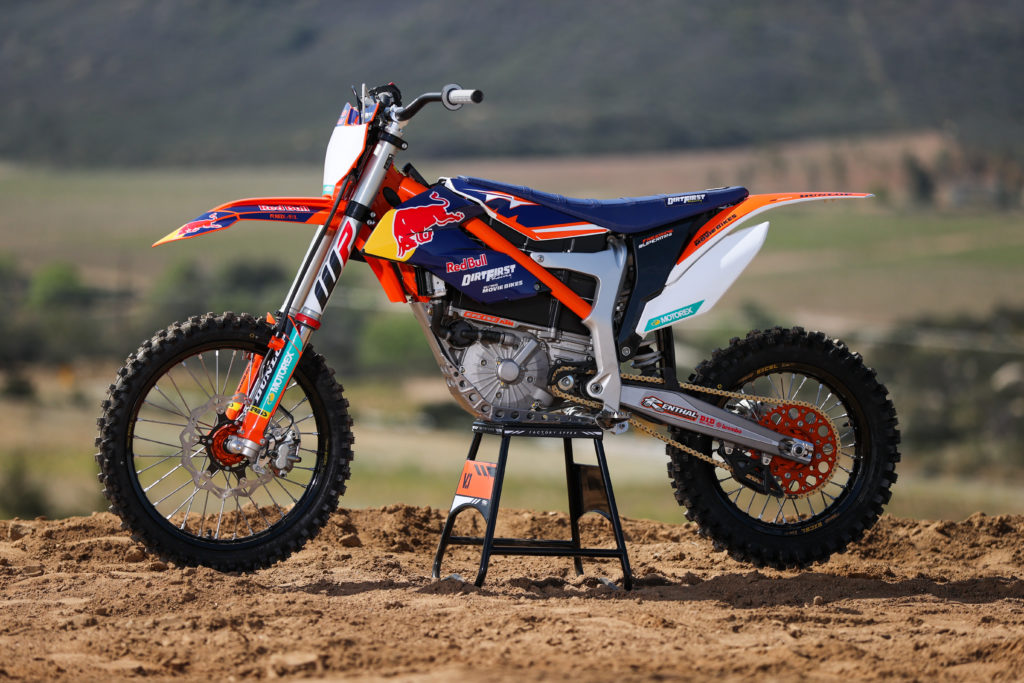 DirtFirst Racing and Hollywood Movie Bikes have teamed up to offer the first race ready Supermini Electric motocross bike. Aimed at 12-16 year old Mini MX racers, this ground-breaking bike starts as a production KTM machine that is then modified to the specifications of the Team's race-winning bikes. The Freeride EXC is a true KTM product that has been available to the public for almost ten years, until recently only in European markets. This bike has the rock solid reliability and worldwide parts network you would expect from any KTM product. This same chassis has been the basis of not only the Freeride EXC, but also the Freeride 250cc and 350cc gas-powered models.
Over the last two years, DirtFirst Racing has race-tested and developed the production KTM Freeride EXC into a bike capable of competing head to head with Supermini-class gas bikes in AMA competition. The Supermini classes are traditionally the final step before racers graduate to full size race bikes, and the Freeride Supermini begins to fill the gap between the smaller KTM SX5E and the full size electric race bikes that we know are on the horizon.
Team DirtFirst riders Rocco Morse and Tommy Luera have competed in MX, GP, and desert races throughout Southern California, helping the Team gain the valuable real-time race data that the major electric motorcycle manufacturers have yet to openly pursue. That's right, we have been at the track working on suspension, battery swaps, quick charging, gearing, basically all aspects of racing electric bikes in real-world situations.

DirtFirst Racing has stocked their inventory to supply a limited run of these unique machines. These bikes have the high-quality components and cutting-edge technology that only a private race team operation can provide.
Many electric bike manufacturers have visions of their bikes winning races, but DirtFirst Racing has actually done it. Get a head start on the coming Electric Revolution with the only competitive Mini MX racing bike currently available.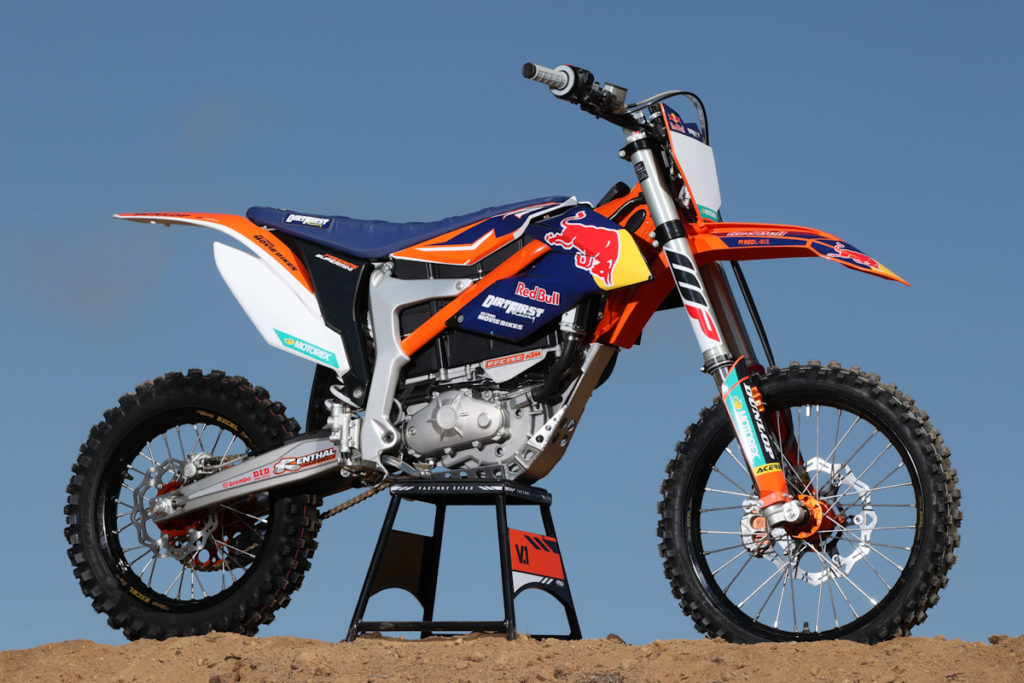 2023 DIRTFIRST RACING KTM FREERIDE SUPERMINI SPECIFICATIONS
WP 43mm XACT AER Forks
WP XPLOR 5746 Rear Shock
Excel 19/16″ Wheelset w/Faster USA Hubs and Dunlop MX33 Tires
Renthal Sprockets and DID ERT3 Chain
Brembo SXF Brake Systems w/Rear Foot Brake and ARC Front Brake Lever
Galfer 260mm Floating Front Brake Disc
Renthal Bars and Grips w/G2 Billet Throttle Tube
Raptor Titanium Footpegs and Works Connection Holeshot Device
DirtFirst Aluminum Skid Plate and Key Switch Mount
Acerbis MX Body Kit w/Factory Edition Replica Graphics and Seat Cover
232 lbs – 33.75in seat height – 24.5hp
SUPERMINI POWER
24.5hp max motor output is comparable to current gas bikes such as the Kawasaki KX112, KTM 85SX 19/16, and Honda CRF150RB, with a smooth power delivery and no clutching or shifting.
SUBSTANTIAL RANGE
Easily run full motos on National MX tracks on a single charge. We have run two 5-lap motos on Glen Helen's Main track on one charge.
FAST CHARGING
Top off the battery in between motos with the included 220V fast charger. The battery charger runs on a 3500w generator for use at the track. A fully spent battery charges to 100% in less than 2 hours. 220 VOLT POWER IS NECESSARY FOR CHARGER.
QUICK CHANGE BATTERIES
Swapping batteries takes 30 seconds, with no special tools and no plug connectors to worry about. Spare batteries available for purchase directly from KTM.
BREMBO SXF BRAKE SYSTEMS
An all-OEM foot-operated rear brake, 260mm Galfer floating front disc, and the same high quality calipers and master cylinders from the current KTM SXF models.
WP SUSPENSION
The WP 43mm AER Fork and WP XPLOR rear shock setup is fully adjustable for 110lb-140lb riders.
The DirtFirst Racing Freeride Supermini is available for order now. Contact andy@dirtfirstracing.com for more information.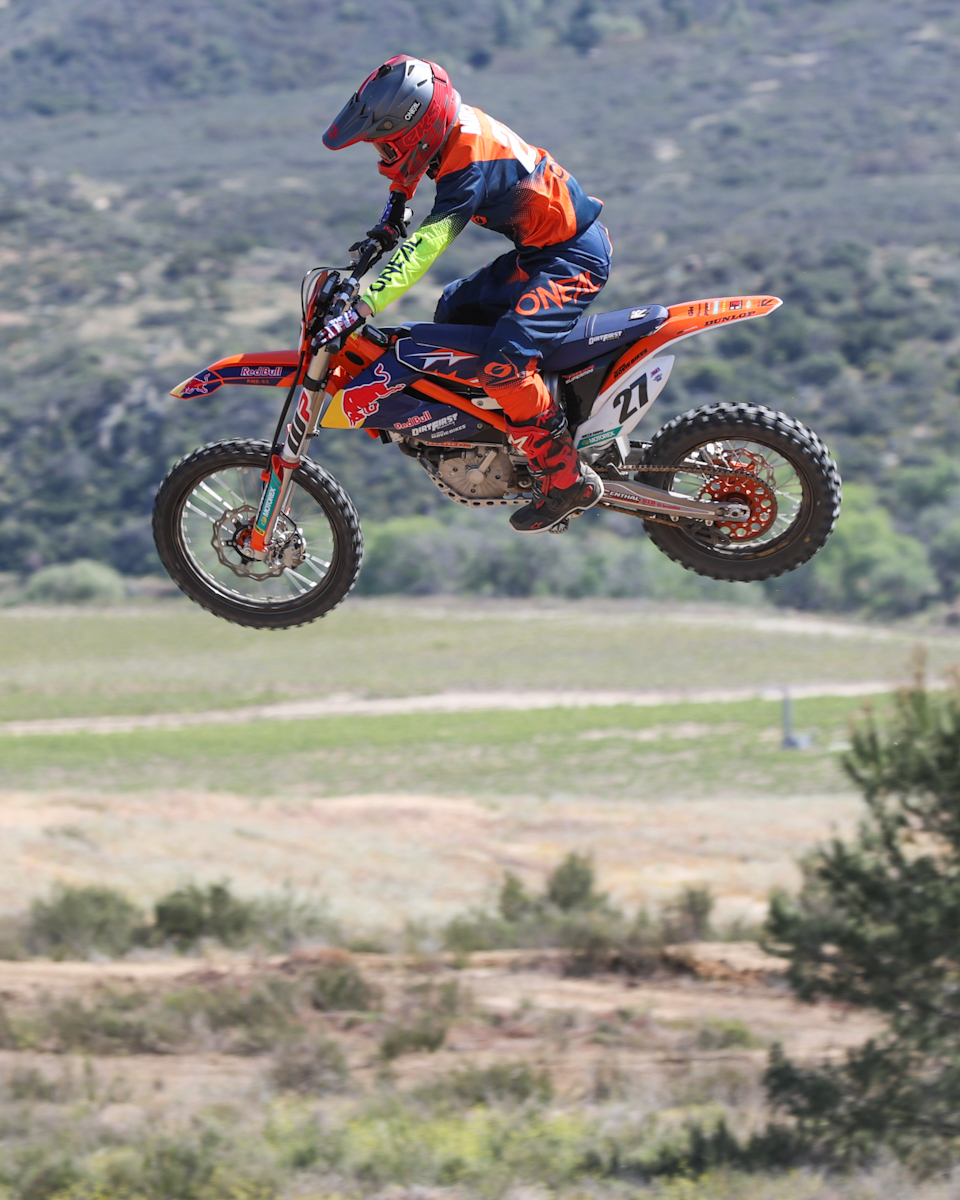 FULL SPECIFICATIONS
Engine- Permanent magnet synchronous motor
Maximum electric power- 18kW(24hp)
Maximum torque- 42Nm(31lb ft)
Maximum motor speed- 7000rpm
Battery- Powerpack HV Lithium Ion
Battery voltage- 260V nominal
Battery capacity- 3.9kWh
Cooling system- Water cooled, electric water pump
Frame- Perimeter, steel/aluminum composite
Fork- WP XACT 43mm AER, 10.95in of travel
Fork offset- 20mm
Rear shock- WP XPLOR 5746, 10.24in of travel
Rear wheel- 16″x1.85″ Excel rim
Front wheel- 19″x1.40″ Excel rim
Front brake disc- Galfer 260mm floating
Rear brake disc- Galfer 220mm
Primary transmission ratio- 1:2.4
Final drive ratio- 13:46, Renthal sprockets
Chain- DID 520 ERT
Wheelbase- 55.44in
Seat height- 33.75in
Ground clearance- 12.50in
Overall weight with battery and fluids- 232lbs
Battery weight- 64lb